Today is 23rd March.The lucky day for all the Pakistanis indeed,but the situation which was in 1940 was better than 23 march 2010 in the context that at that time we knew who were our true leaders but now we are so ignorant and some agendas have trapped us so badly that we are unable to differentiate between good and bad.Zaid Zaman Hamid is the most famous and at the same time most controversial personality in media these days.According to his official profile he is :
"Mr. Zaid Hamid is a security consultant and strategic defense analyst. He is the founder of BrassTacks, a unique Pakistani Think Tank devoted to the study of regional and global political events and their implications for Pakistan's security and interests.

"
And his message is:
,
"Our organization is Pakistan, our identity is Islam, and our constitution is the quran".
We represent nothing other than this. Our mission is to revive our pristine religious values, and helping create awareness among the people so they can understand the finer, subtle truths of our Islamic wisdom in relation to our current situation.
He has a great influence on the youth of Pakistan.Therefore, it has become very important to find out his reality.But as the nation is divided into two opposite parties it is difficult to find out the truth.one is the party, which supports him and is not agreed to hear a word against him, and the second party is the one which doesn't support him and is working to create awareness against him.I don't fall in any category, I'm standing somewhere in the mid and to be honest i want to be at one side, for which I'm making investigations and trying my best to learn the truth.As i also belong to youth, i was also inspired by his motivational speeches.
a
nd a big fan of him, but as much as i learn about his past i get confused more and more.
His history records tell that :
He was the follower of Yousaf Kazzab in 1990s and Yousaf made him his khalifa,but when yousuf kazzab was put to death as he claimed that he was the continuity of naozubillah Holy Prophet S.A.W
.
Zaid Zaman Hamid went underground
.
Now, after almost ten years he appears again on television networks with his self-sponsored programs and tries to make place in the heart of under twenties by emotionally motivating them.To catch the attention he adopts the policy of anti-Americanism.
The thing which makes me confuse about his past are the evidences,which can be seen
here
Secondly, he is reluctant to declare yousuf Kazzab a blasphemy.If he really has no links with him then what on earth is stopping him to call Yousuf Kazzab bad before the whole world?Still he unconsciously admits his links with Yousuf
here .
Plus he says that his mission is for peace and he wants to turn Pakistan into a real powerful and strong country,where no offense or harm will be caused to any member not even to those who are against him.But if you hear the above video carefully you will notice him saying to shoot a fire in the skull of the person who calls him a lier.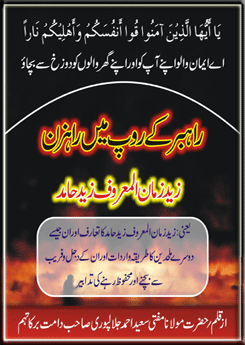 Moreover it is being said that Zaid Hamid is involved in the murder of
Molana Mufti Saeed Ahmed Jalalpuri
as he was the major hindrance in Zaid's goal. he wrote a book against him with evidences and was also distributing pamphlets about zaid hamid's past in youth.
Still with these proofs i'm not against him, but i'm confused.I'll soon reach on a point where i would be able to make my conclusion about him.Therefore, i want your opinions about Zaid Zaman Hamid,but i hope i will not get the comments of blind-followers here.Please come up with some logic and proofs either you are in his favor or if you are against.I hope you all will share your opinions.
UPDATE:
To read the opinion of Pakistan islamic organisation
Tanzeeme
Islami
click
here